Vegan Carrot, Apple & Orange Cake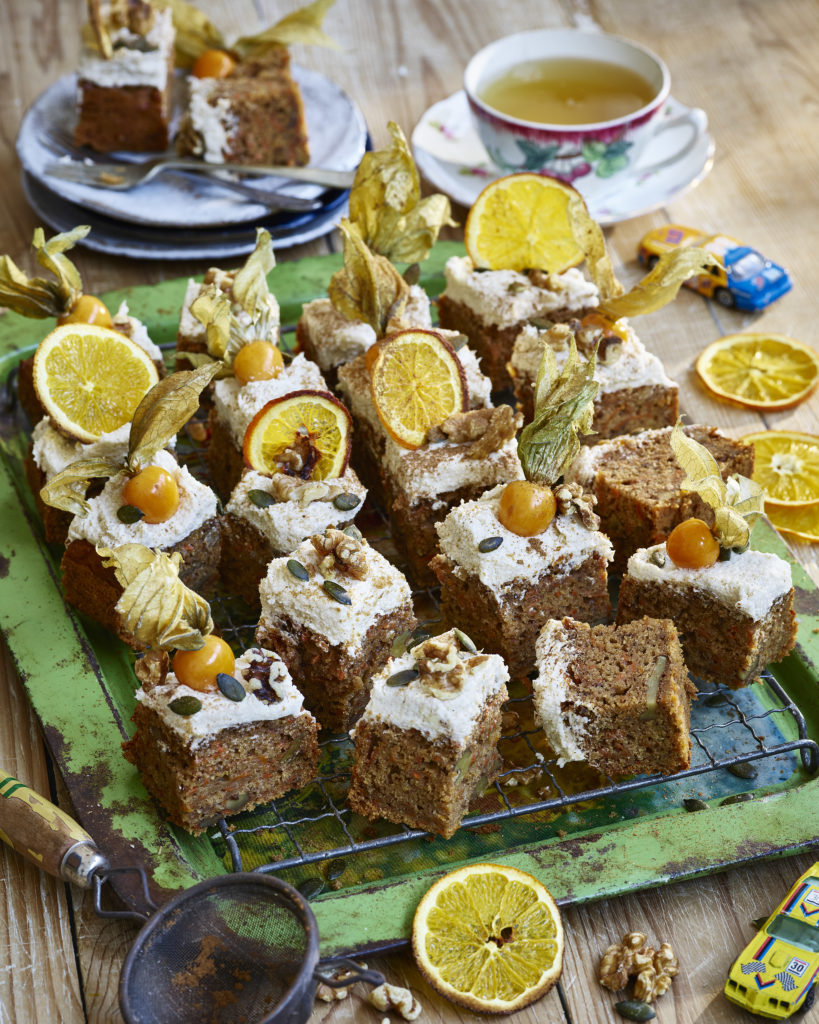 this delicious cake can be made gluten-free, by swapping out the self-raising flour for a gluten-free alternative.
Ingredients
2 cups/240g Self Raising Flour
2 tsp Baking Powder
1/4 tsp Sea Salt
1 tsp Ground Cinnamon
1/4 tsp Ground Nutmeg
1 cup/170g Coconut Sugar/Brown Sugar
1 cup/125g Walnuts, chopped
3 Carrots, grated
1 Apple, peeled & grated
Zest of 1 Orange
1 tsp Vanilla Extract
1/3 cup/80ml Vegetable Oil
1 cup/240ml Non Dairy Milk
3 tbs Chia Seeds
Icing 
350g Icing Sugar
200g Vegan Margarine/Butter
1/2 tsp Ground Cinnamon
Zest of Half an Orange
1 tsp Vanilla Extract
Garnish
Dried Oranges
Physalis
Walnuts
Method
Preheat the oven to 180 degrees C. Grease and line a loose bottom 10" cake tin.
Combine all the dry ingredients in a large mixing bowl, then stir in the carrot, apple & orange. Add all the remaining cake ingredients and stir well to combine.
Pour the mixture into your lined cake tin & bake for 35-40 minutes. If you're unsure if it's fully cooked simply poke a metal skewer into the centre – if it comes out clean it's cooked. If not, pop the cake back in the oven for a bit longer.
Let the cake rest & slightly cool before removing it from the cake tin. Once removed place on a wire rack to completely cool.
Whilst the cake is cooling make the icing.
In a large mixing bowl, whisk together the icing ingredients until the icing is light and fluffy.
To make the dried the oranges simply cut an orange as thinly as possible into slices & lay them onto a lined baking tray. Brush over some agave nectar. Place the oranges into an oven set at 110 degrees to quickly dry the oranges. This should take about 30 minutes. But keep checking them.
Using a pallet knife smooth the icing over the top of the cake. Then top with the dried oranges, walnuts & physalis.
Share this recipe