Caramelised Spiced Plantain with Jalapeño Dressing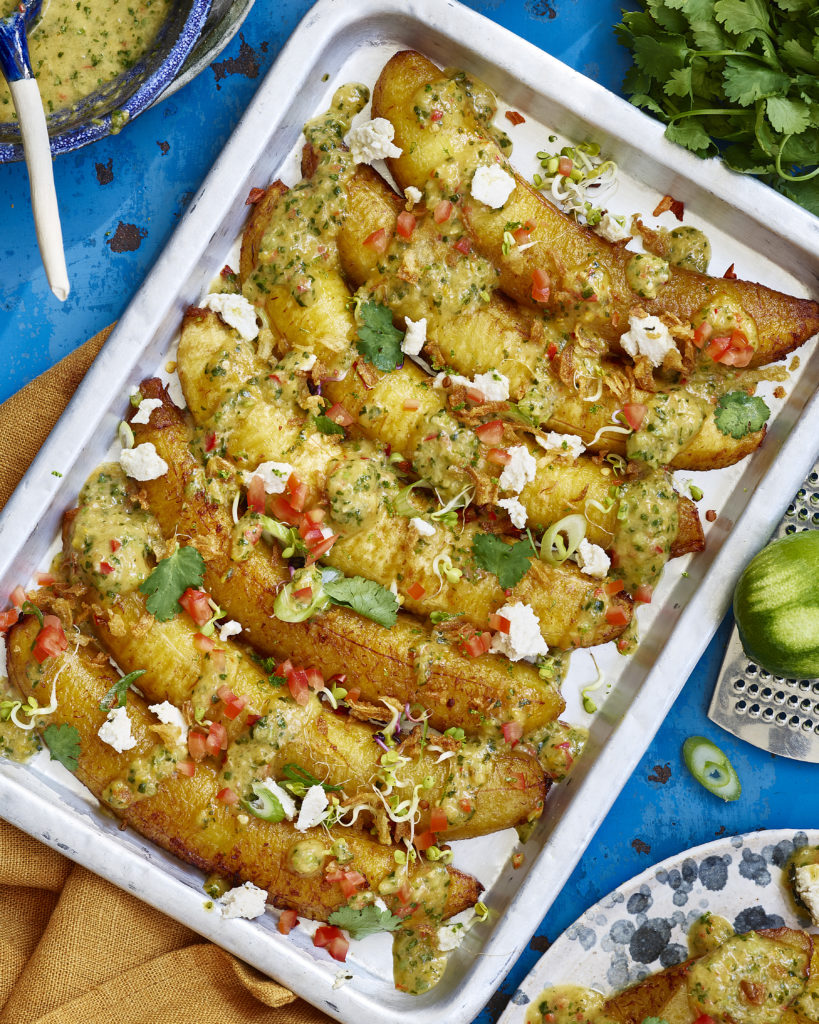 Ingredients
4 Ripe (yellow) Plantains, peeled and halved length ways
2 tbs Olive Oil 
Spice Mix 
1 tsp Cayenne Pepper
1 tsp Smoked Sweet Paprika
1 tsp Ground Ginger
1 tsp Ground Cumin
2 tbs Coconut Sugar
Dressing
1/2 cup/60ml White Wine Vinegar
8 Jalapeno Chilli, de-seeded & toasted
1 Beef Tomato
1/2 cup/60ml Extra Virgin Olive Oil
1/4 cup/30ml Agave Nectar
4 Spring Onions
1 tsp Sea Salt
Juice of 1 Lime
Handful Coriander, leaves and stalks 
Garnish
Cashew Cheese
Cress
Zest of a Lime
1 Tomato, de-seeded & cut small 
2 tbs Crispy Onions 
First up start off with the dressing, pre heat a non stick frying pan over a medium heat and add a little oil. When the pan is hot add the spring onions & jalapeños. Sauté for 3-4 minutes until they have soften and gone a little golden. Mean while add the rest of the dressing ingredients to a blender. When the jalapeños and onions have cooked add them to the blender.
BLitz the mixture for a minutes or so or until it's smooth. Set the dressing aside until you're ready to serve. Any left over dressing can be stored in a sealed container in the fridge for 2-3 weeks.
Peel the plantains & cut them in half length ways. Mix together the spice mix in a little bowl.
Place a large non stick frying pan over a medium heat with a little oil and when the pan is hot, start to fry the plantains cut side down. Cook them for 2 minutes before flipping them & then sprinkling over the spice & sugar mix generously. Cook for a further 3-4 minutes flipping them over a couple of times to make sure the spices & sugar caramelised around the plantain.
Once cooked serve the plantain on a try topped with lots of the dressing, cashew cheese (I used store bought), chopped tomato, cress, crispy onion & a little coriander.
Share this recipe