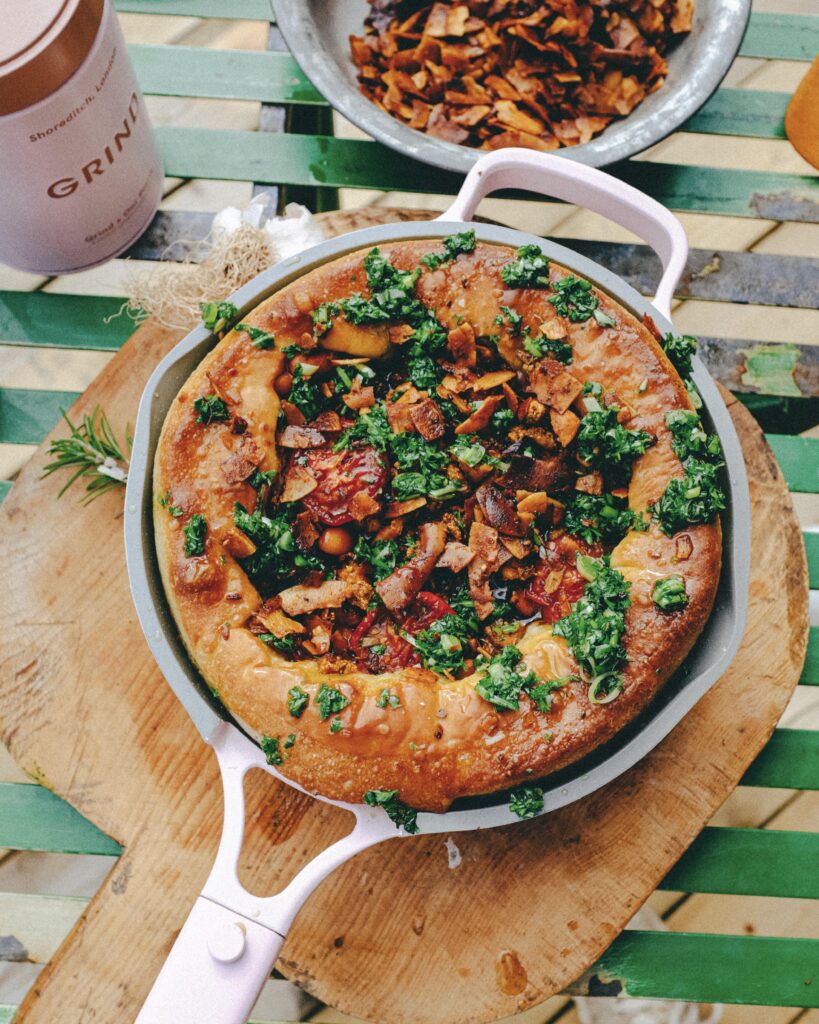 Ingredients
Pizza Dough 
4 cups/480g Strong White Bread Flour 
1/2 tsp Sea Salt
2 tsp Fast Active Dried Yeast
6 tbs Olive Oil 
2 cups/500ml Luke Warm Water 
1 Sprig Rosemary
1 Garlic Clove, peeled & sliced fine 
Tangy Beans 
1 tbs Olive Oil
1 Clove of Garlic, Minced
2 Shallots, Chopped fine
1 tsp Smoked Paprika
Pinch of Sea Salt & Pepper
1 can Chopped Tomatoes
2 tbs Unrefined Caster Sugar
1 tbs of White Wine Vinegar
1 can Haricot Beans, drained & rinsed 
Scrambled Tofu 
4 tbs Olive Oil 
1 tbs Onion Granules 
1 tsp Dried Garlic 
1/2 tsp Turmeric 
1 tsp Cayenne Pepper 
2 tsp Smoked Paprika 
2 tsp Celery Salt  
1 Block Extra Firm Tofu, crumbled  
Coconut Bacon 
1 cup/100g Coconut Flakes
3 tbs Maple Syrup
1 tbs Liquid Smoke
2 tbs Soy Sauce
1 tbs Sweet Smoked Paprika 
1 tbs Coconut Oil 
Salsa Verde  
Big handful garden herbs 
1 clove Garlic, minced 
Zest & Juice 1 Lemon 
1/4 cup/125ml extra virgin olive oil 
Pinch sea salt
Serve with 
Sauteed Tomatoes 
Method
Dough 
Whisk together the lukewarm water with the yeast & olive oil. Leave for around 5 mins until bubbly.
Meanwhile, mix together the flour and salt in a large mixing bowl or bread mixer. Make a well in the middle then add the water & yeast mix. Stir/Mix until the mix starts combining to form a very wet dough.
After mixing the dough together, allow it to rest for about 30 minutes to let the flour fully hydrate. 
To begin the stretching and folding process, wet your hands to prevent sticking, and gently reach under one side of the dough, lifting it and stretching it up and over the rest of the dough in the bowl. 
Rotate the bowl and repeat this process on all sides, essentially folding the dough onto itself. 
This helps trap air, enhances dough strength, and creates those desirable air pockets in the final bread. Repeat this every 30 minutes to an hour, 3 times. Then cover the bowl & place the dough into the fridge to rise overnight. 
The following morning, drizzle some oil into your baking dish, I used my beautiful our place x grind collaboration pan. Then add the dough, cover the pan & place it somewhere warm for the dough to rise. 
Beans
Sweat the onion & garlic in a small saucepan with the olive oil for approximately 2 minutes stirring often to avoid anything burning. Add the paprika & seasoning, then cook for 1 more minute.
Turn the heat right down low then add the tomatoes, sugar & white wine vinegar. Bring this to a simmer then add the cooked beans. 
Pop a lid on the pan & let the beans bubble away for 15-20 minutes or until you're ready to use/serve.
Scrambled Tofu 
Add the crumbled tofu to a mixing bowl with the rest of the ingredients & mix well, making sure everything is coated. Place a large pan over a medium heat & add a little oil, when the pan is hot fry the tofu, until golden & a little caramelised. 
Coconut Bacon 
Pre heat your oven to 180 degrees C.
Add all the ingredients to a mixing bowl & stir well. Once each coconut flake is coated
spread the coconut evenly over your lined baking tray. 
Bake in the oven for 10-12 minutes until golden & crisp.
Check the coconut a couple of times whilst cooking as it can easily burn & stir it when 
checking.
Salsa Verde
Chop the herbs really fine, then add them to a mixing bowl with the rest of the ingredients,
adjust the amount of olive oil you add depending on the consistency you require.
Cooking the pizza 
When the pizza dough has risen, pierce the dough with fresh rosemary & garlic 
slithers.
Top the pizza with the beans & scrambled tofu, plus I added some caramelised 
tomatoes. 
Bake the pizza in an oven set at 230 degrees C for around 25 minutes. 
When the pizza has cooked, top it with the coconut bacon & salsa verde. 
Share this recipe