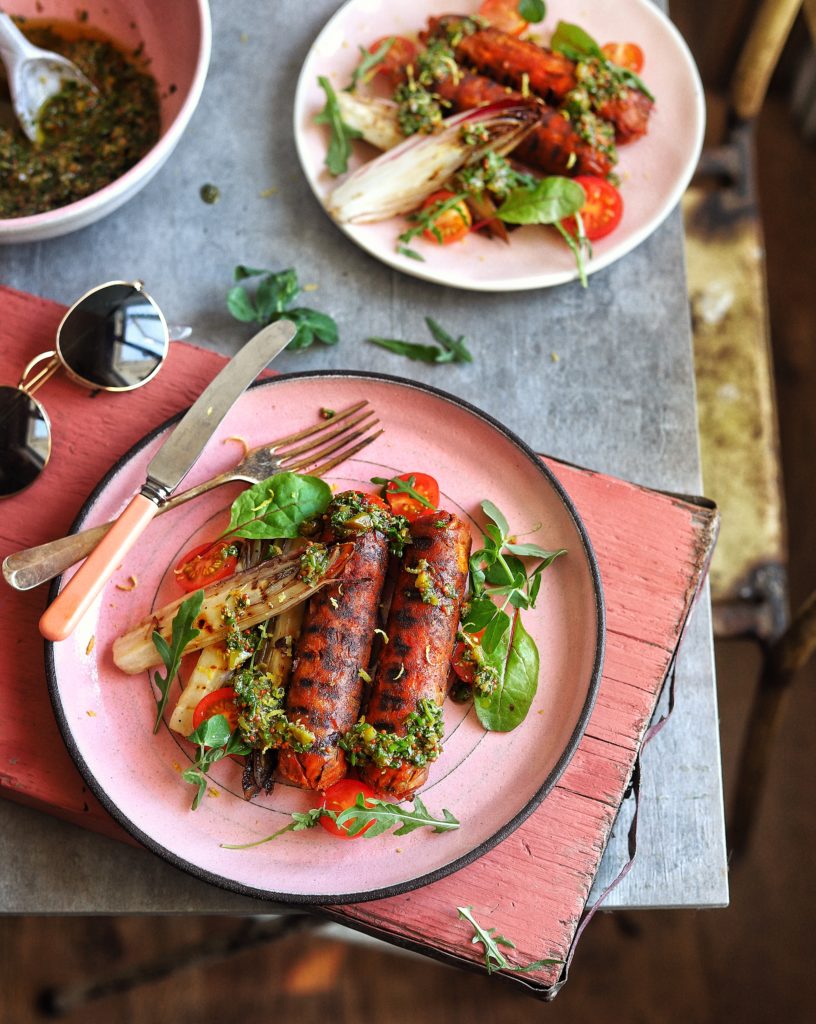 Beautiful bean sausages that are suitable for BBQ's! Easy to make & extremely tasty. I served mine with a lovely salsa verde.
Ingredients
1 tbs Vita Coco Coconut Oil 
1 Red Onion, sliced fine
3 Cloves Garlic, minced
1 Red Pepper, deseeded & cut small
1 Portobello Mushroom, chopped fine
3 tbs Paprika
Zest 1 Lemon
2 tbs Lemon Thyme leaves
2 Sprigs Rosemary
1 tin Red Kidney Beans, drained, rinsed & pat dry
1 tin Cannellini Beans, , drained, rinsed & pat dry
5 Tbs Buckwheat Flour
3 tbs Crushed Walnuts or GF Breadcrumbs for nut free
2 tsp Sea Salt
2 tsp Cracked Black Pepper
Salsa Verde 
Handful Fresh Parsley
Handful Fresh Chives
Handful Fresh Basil
3 Cloves Garlic, minced
3 tbs Capers
3 Cocktail Gherkins
1 tbs Mustard
5 tbs Olive Oil
3 tbs Red Wine Vinegar
Seasoning
Serve with 
Charred Chicory
Rocket
Tomatoes
Lemon Zest
Sweat the onion, pepper, mushroom, garlic, herbs & spices over a medium heat.
Add the beans to a mixing bowl with the flour & walnuts.
Once the onion mix has softened add it to the mixing bowl. Using a masher, mash the mix until it just starts to come together. Don't over mash the mix, you want some texture.
Lightly flour your hands, then make the mix into sausage shapes, I usually get 8-9 sausages out of the mixture.
Wrap the sausages individually first in greaseproof paper, then in a sheet of foil, tightly.
Once you've wrapped all of the sausages, place them into a saucepan of simmering water. Allow them to cook for 20 minutes.
Remove the sausages from the water once cooked. When cool enough to handle, remove the wrapping. Recycle the foil.
For the salsa verde, finally chop the herbs with the garlic, gherkins & capers. Once fine add the mix to a bowl & stir in the mustard, vinegar & oil. Season to taste.
BBQ or grill the sausages for 4-5 minutes & serve with the salsa.
I lightly grilled some chicory to serve with the sausages.
Share this recipe