BBQ-able Vegan Lentil Hot Dogs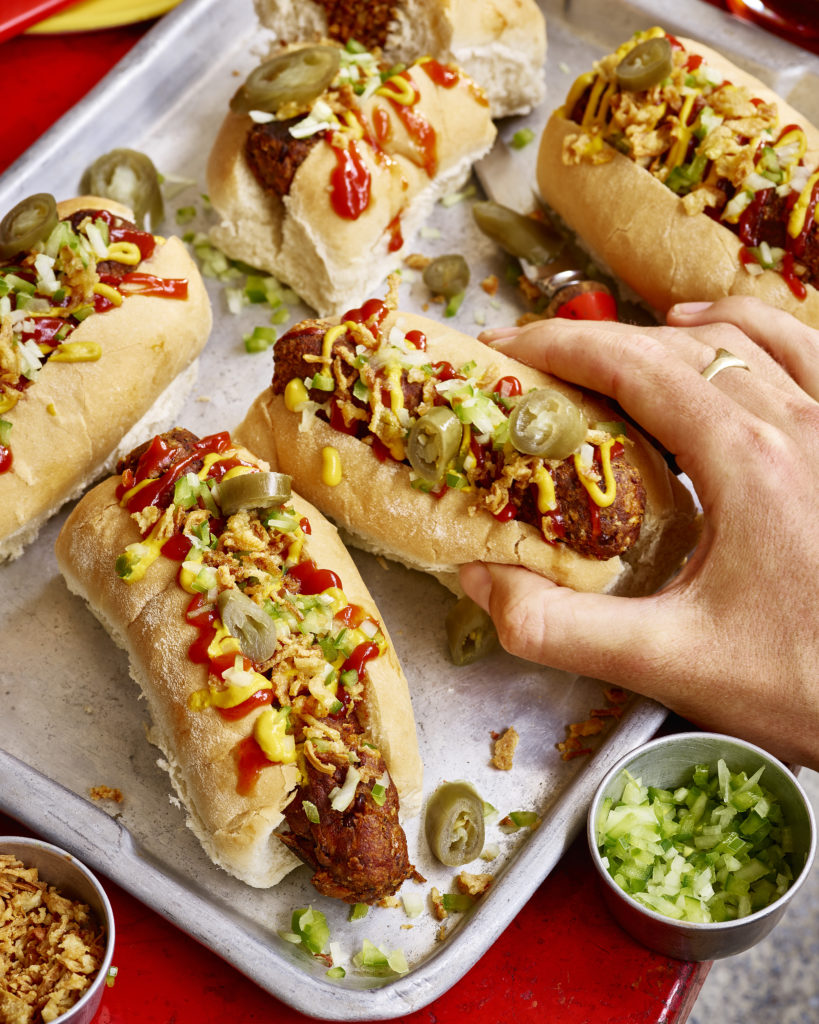 Merchant Gourmet gave me the challenge of creating a sausage suitable to be cooked on a bbq using their lentils.
Ingredients
1 tbs Olive Oil
1/2 an Onion, Chopped Small
2 Clove of Garlic, Minced
2 Portobello Mushrooms, Chopped Small
100g Walnuts
1 Pouch Merchant Gourmet Puy Lentils
100g Cooked Sweet Potato
1 tbs Chipotle Paste
1/4 tsp Sweet Smoked Paprika
1/4 tsp Dried Oregano
2 tbs Tomato Purée
1 tbs Balsamic Vinegar
5 tbs Heaped Plain Flour
25g Dried Breadcrumbs
1/4 tsp Cracked Black Pepper
1/4 tsp Sea Salt
Optional Garnishes
Hot Dog Rolls
Mustard
Ketchup
1/2 an Onion, finely chopped
1/2 a Green Pepper, finely chopped
Crispy Onions
Method
First up sauté the onion, garlic & mushrooms over a medium heat in a little olive oil until golden, be sure to make sure all the liquid has evaporated from the mushrooms. Once sautéed, transfer the mix from the pan to a bowl.
Add the walnuts to your food processor & blitz them to a crumb. Next add the lentils & sweet potato to the food processor, pulse 2-3 times to lightly break up the potato & lentils.
Add the walnuts, potato & lentils to the bowl with the mushrooms, onion & garlic, followed by all the remaining sausage ingredients then mix well with a spatula. The sausage mix should be relatively dry but if your mixture feels too wet, add a little more flour or breadcrumbs.
Lightly flour your hands then form the mixture into around 8-10 sausages.
The sausages are now ready to be cooked on your bbq, or alternatively in a non stick frying pan or oven.
For bbq cooking, I recommend cooking the sausage over hot coals rather than a naked flame, make sure your grill is clean and greased well with a little oil. Grill the sausages for 7-8 minutes turning them carefully every now and then.
Alternatively for cooking them in a pan, pre heat your non stick frying pan over a medium heat and sauté the sausages for 8-10 minutes, turning them over every now and then.
I serve my hot dogs topped with all my favourite trimmings such as, finely chopped onion & pepper, crispy onion, mustard and ketchup.
The sausages can be pre made and stored in your fridge for up to 2-3 days before cooking.
Share this recipe